Fishdom | Play Online for Free | Read on for Game Features, Tips, and Tricks
Findings of a study published in 1995 state that exposure of humans to natural environments particularly an aquarium proves to have calming and stress-reducing effects on one's body. So does puzzle games, which aside from lowering stress levels also slows down memory loss and even delays dementia and Alzheimer's disease. With that said, would not it be nice if you have both features in a single game? This is where Fishdom from Playrix comes into play.
Experience the calm-stress-reducing environment of an aquarium plus the memory-enhancing benefits of a match-three puzzle game straight from your PC. Enjoy the breathtaking view of your very own aquarium all the while testing your wits in a plethora of puzzles just waiting for you to solve. Collect fishes, customize your own aquarium, and earn rewards in this highly immersive game free of charge.
Connect with your friends through your social media page and gain access to various loot. On top of that are the seasonal events that bring forth unique items, rare fishes, fun challenges, and so much more. So what are you waiting for? Check out Fishdom today and gain access to some of the unique features ever found in a match-three puzzle game.
As unique as the concept that lies behind the entire gameplay structure of Fishdom are the features that make the entire game as interesting as it is. From the brilliant sound effects to the high definition graphics that serve as the shell of the game, Fishdom is definitely the fun and relaxing game, you definitely do not want to miss. Check out some of the most iconic features of this amazing game below.
Unique Game Concept
Fishdom as the title suggests is a fish-themed video game. However, just like most one-word-title games, there is more to this game than meets the eye. Part of which is the fact that the game instantly converts the player into an aquarist. Nevertheless, the fun never stops there, you see, just like any other game, players will have to work in order to expand and customize the aquarium. Work means to have fun solving a near-endless supply of match-three puzzle games. In short, Fishdom is a game that combines relaxation, fun, creativity, and excitement in a single game.
Competitive Gameplay
Fishdom for starters features a great single-player experience one could ever hope for in a free-to-play title. With that said, the game also has something for those who are competitive in nature. One example is the PVP or Player vs Player tournament that kicks in after level 20 called the Electric Challenge. Part of what makes these tournaments interesting is the fact that it automatically qualifies the player by simply playing the game. The winners of each tournament are determined through the number of bolts collected through the given time.
Another is Team Gameplay to which the player can either create or join an existing team. Participating in various team activities, which includes competing with other teams, allows players access to unique rewards and loot.
In-Game Events
Fishdom also features a variety of in-game events. Unlike other video games in the match-three genre, progression in Fishdom comes with multiple surprises. One example is Aquatasks, which as the name suggests, is a series of tasks that becomes available after the player reaches level 32. Another is the Deep Dive Event, which is a time-limited challenge that becomes available after reaching level 30. Each in-game event not only features unique rewards but a fresh set of challenges as well. Experience this and so much more as you progress within the fun levels of this awesome game.
Boosters and Power-Ups
Fishdom just like other match-three puzzle games comes with a wide selection of boosters and power-ups to help you in dire situations. Five types of power-ups are available for the player to collect in the game. One of which is the Firecracker that can blast anything within a one-tile radius followed by a more powerful Bomb that can eliminate everything within a two-tile radius. Then there is the Dynamite, with its three-tile radius trailing behind the four-tile eliminating power of the Warheads power-up. Lightning, on the other hand, can eliminate all pieces of a single color on the board.
On top of that are six types of boosters players can collect and unlock within the game. Boosters are collectible power-up combinations that appear at the start of each level. These items are important especially in solving hard levels. Examples of boosters include the Hammer Booster that can destroy a single tile, Diving Glove booster for swapping tile positions, and Torpedo Booster that can clear a wide area on the board.
Fishdom is a fun, relaxing, challenging, and immersive game any puzzle-loving gamer should have. After all, a game with over 2.4 million 5 star ratings out 3 million is hard to ignore. Download Fishdom game today with no installer and enjoy each unique feature free of charge. Play it with your family and friends today.  For more fun puzzle games, check out Toon Blast.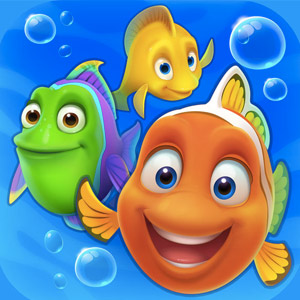 By
Playrix Games
| 4,086 downloads
Game Features
Brilliant Audio-Visual Presentation
Unique Gameplay Structure
Near-Endless number of levels
Tons of Customization Items
…And so much more!
Play Fishdom for Mac and PC!